About us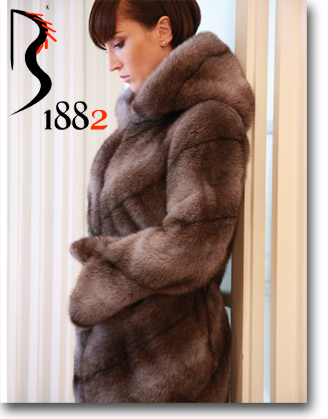 Bertoletti 1882 is a multifaceted, fourth generation family company where anything you wish for in fur is here. In European societies luxury furs became associated with female status symbol. Over the ages, the fur has remained an evident emblem of feminine elegance, a timeless peace of female fashion identity. Thanks to ours artistic skills, fur is transformed and redesigned, molded and reinterpreted for everyday look; a fashion item also adapts to be used by young girls. Bertoletti 1882 creates coats, overcoats, jackets, shrugs, stoles and accessories including fur hats, headbands and fur ear muffs.
Mixing tradition with talent and innovation, all the Bertoletti's garments are unique creations completely made in Rome from the highest quality of fur and are sold at competitive prices.
Tailor made garments are our area of expertise. The garments are exclusives and certified.
Bertoletti 1882 is a member of A.I.P. (Italian Furriers Association) and is also participant of the Origin Assured Programme. The OA™ label provides consumers with information about the source of the fur they are buying. Only fur from approved species, sourced from approved countries, where national or local regulations or standards governing fur production are in force, which is sold through participating auction houses, is entitled to carry the OA™ mark.
In addition, since March 2015 Bertoletti 1882 participating in the K-WAY FURBE network, is able to transform your old fur coat in an exclusive K-Way style.
In order to position itself on the international on-line market, since September 2015, the company is a partner of Edaole, the China's leading first mobile shopping guide for Europe. Edaole operates trough Europe's most important cities. The platform, consisting of website and app (iOS and Android), recommends selected shopping opportunities in different categories to wealthy Chinese individual and business travelers.
For the company, to be part of this network of luxury brands is a guarantee of high quality of its products.
Since 2018 Francesco Bertoletti is Commissioner of the Italian Furriers Association, Regions of Lazio, Abruzzo and Molise.
You can rest assured that a Bertoletti article:
is a unique, exclusive model;

is hand crafted by us in Rome;

is numbered and guaranteed by an Authenticity Label;

is made using top quality materials,namely,




furs from traceable, certified sources and solely Italian fabrics;

can be reworked by us to create a new model even after 10 years;

is a registered brand representing an expertise and history spanning 130 years;

is from an Historic House of Excellence recognised in the Roma Capitale Roll of Honour.

is Impresa Storica d'Italia included in Registro Nazionale Unioncamere